The Austin Rugby Club played its first round of home games this past weekend. The result? Three excellent victories for the men in black. Read on for the full game summaries.
Overview
She was a cold day out at Burr Field this past weekend. Exactly what you'd want in Texas in January. But the brave souls who made it out to the fields on Saturday got what they paid for. Three solid performances by three teams that are aiming to win national championships this year. Were they perfect? Not so much. But everyone put in a huge effort and should be proud of themselves for braving the elements.
Full credit should also go to the Quins & McAllen organizations who had to travel a heck of a long trip on what was honestly a rubbish day out. The Quins in particular had a couple guys injured during the D2 game who struggled through and made it to the end. One prop in particular collapsed in the Blacks' in-goal about 15 mins into the game. For a second the sideline commentators thought about calling for an ambulance. Little did we know that the issue was a 'restrictive' 4XL jersey. As soon as that was dealt with using the seldom-seen 'just roll it half way up your torso' technique, the lad was back on his feet.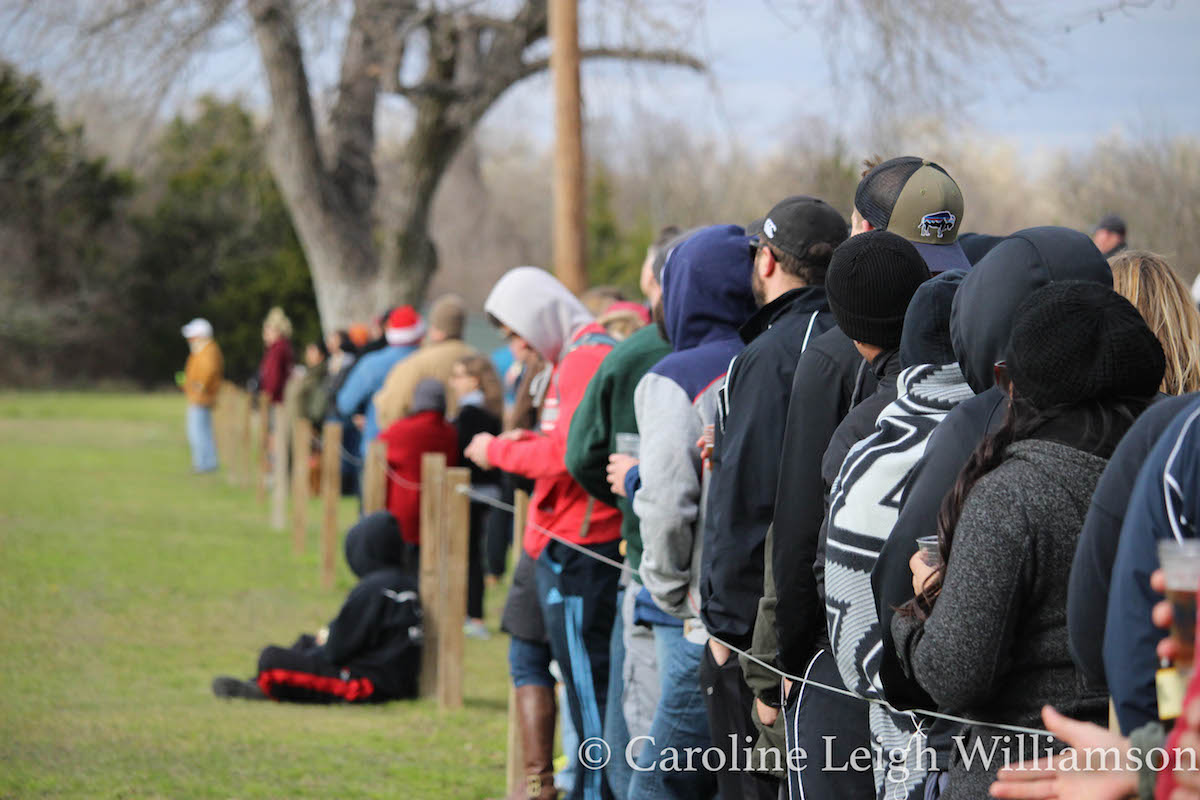 Division 3
McAllen Knights made the long trip North on what was a freezing-cold morning to play the ARC Division 3 side. Both teams looked primed for the clash with benches full and smiles wide. In the first half things were a lot closer than the scoreline suggested. Austin made the most of their opportunities, scoring a couple of earlyish tries. The conversions were 'variable' so at half time McAllen were still well within reach. They put on some great pressure after half time, and looked in with a sniff with about 25 minutes left. But the superior fitness of the Blacks D3 side showed through with strong performances from captain Austin Byrne, Tom Walsh, Tim Flynn and Joe Arada. Questions remain as to how a grown man like Creighton 'Bundy' Paul can manage to sleep through an alarm in the year 2016. Who will answer them? Who knows.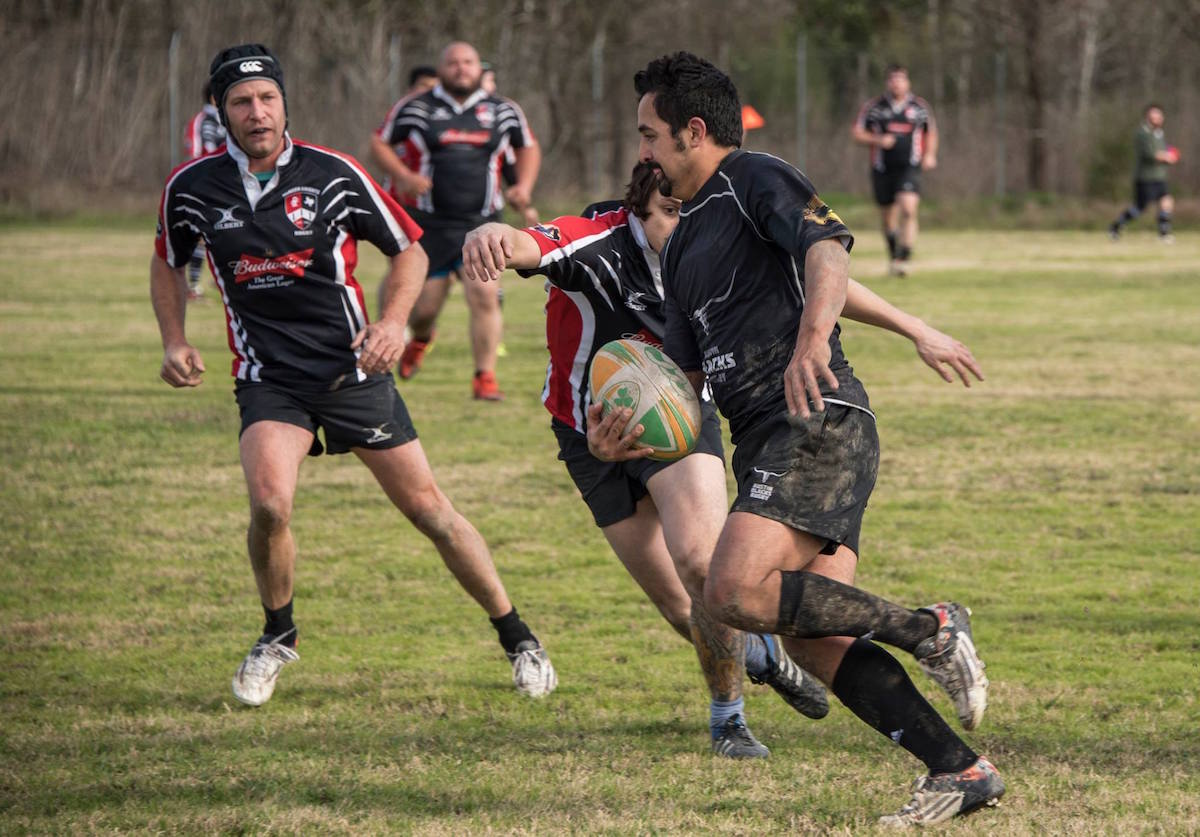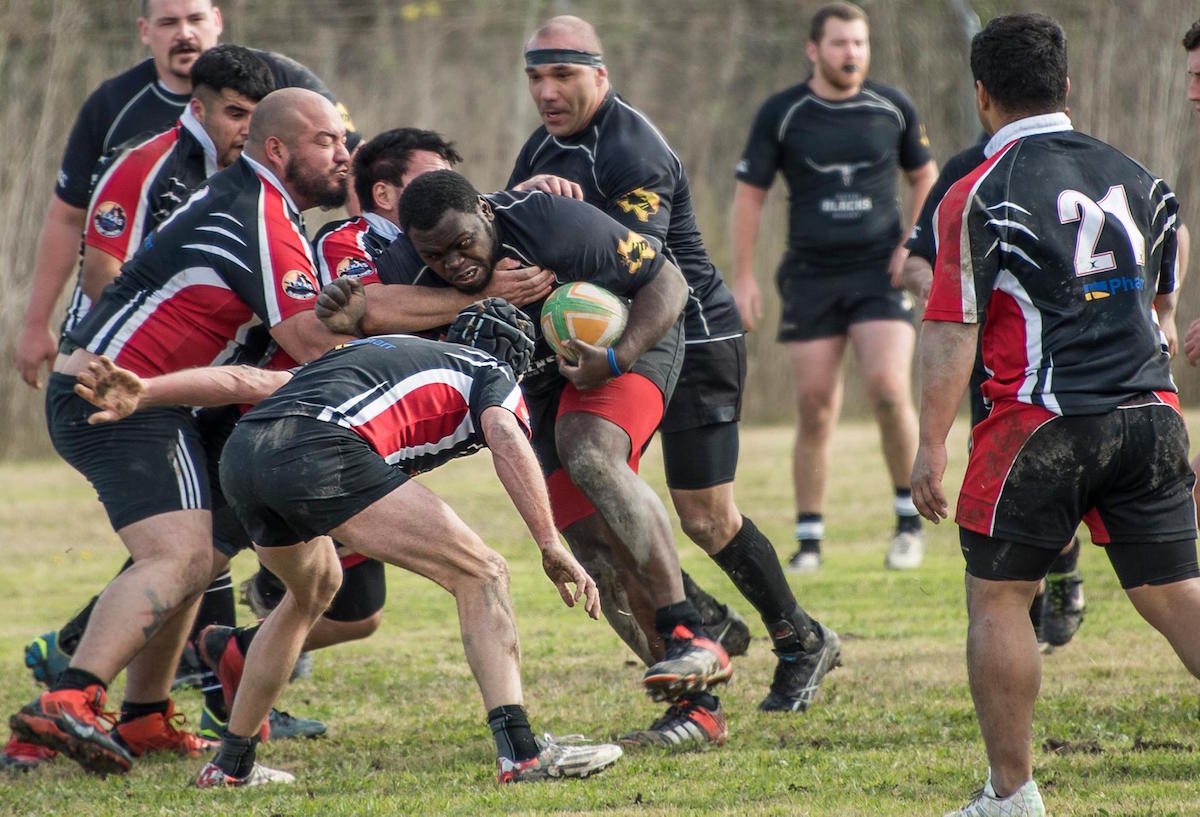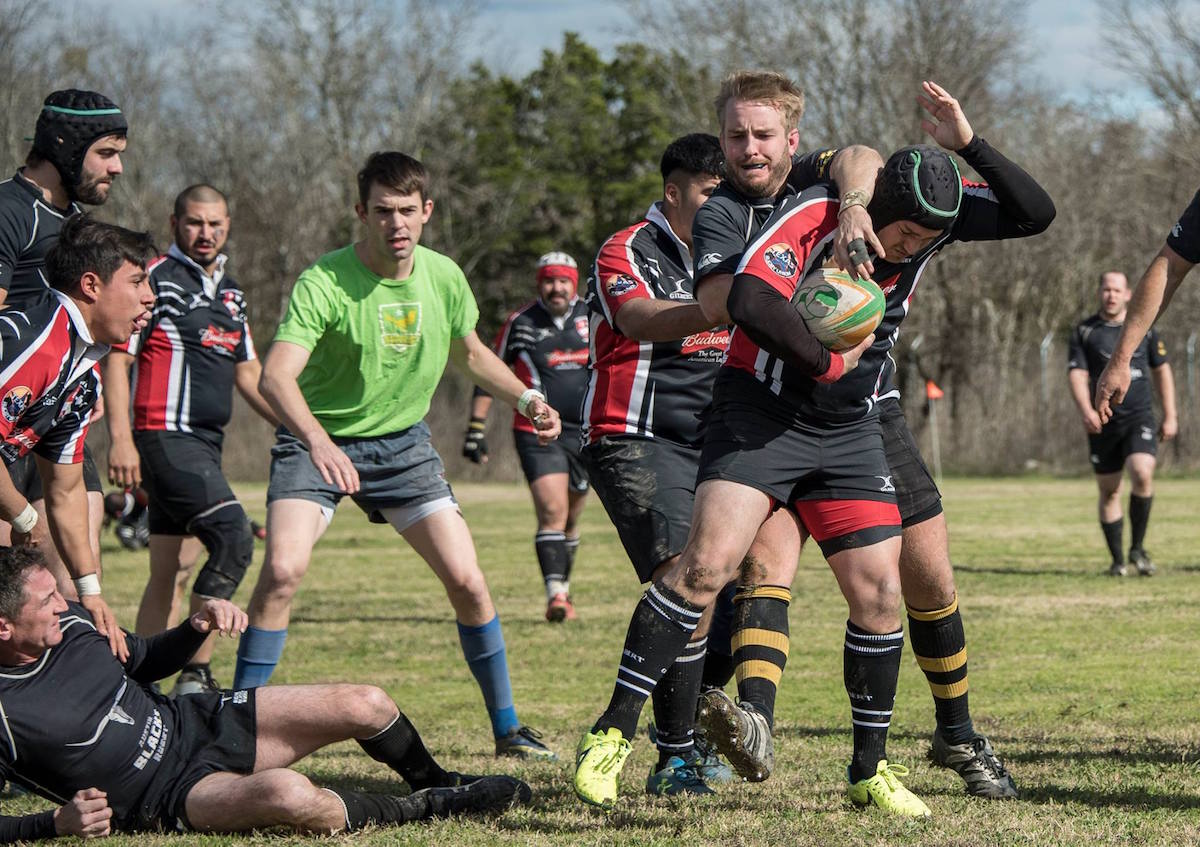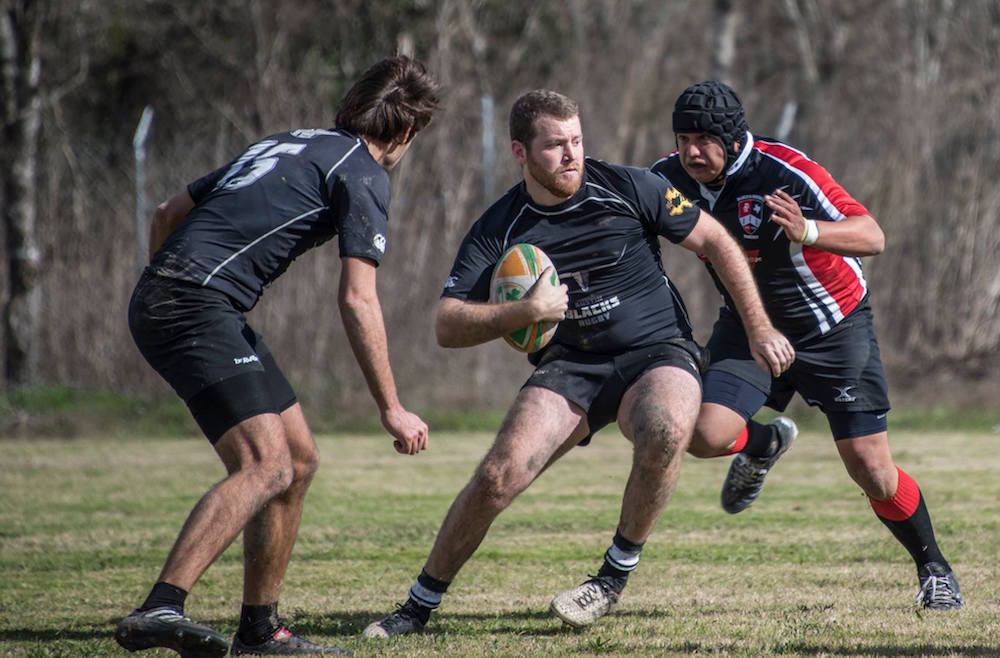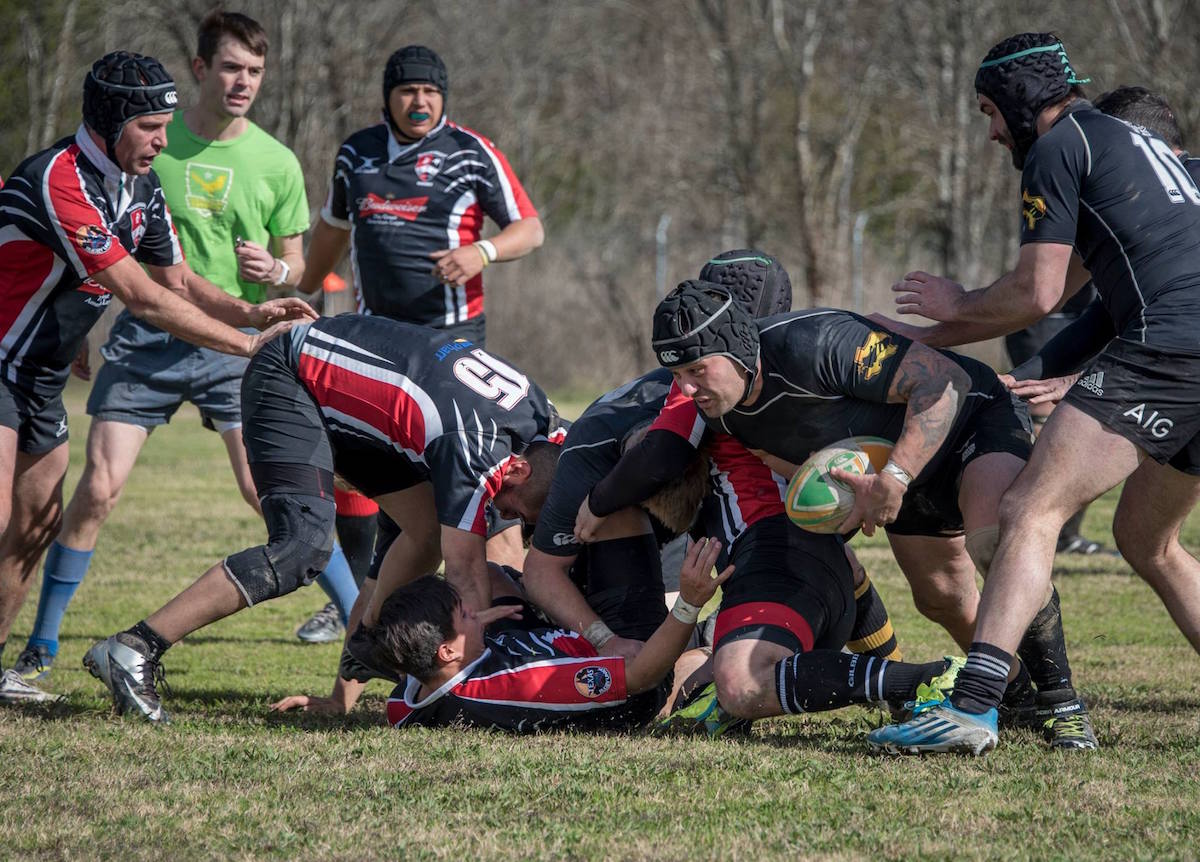 Division 2
The D2 guys had a tough hitout this weekend. Fielding what was probably the best squad for a decade, the guys looked poised for a famous victory. That didn't eventuate. In fact, the first hour of the game was a serious arm wrestle. Passes weren't going to hand and decisions were going against the Zebras. All the while it was getting colder and colder and colder. The lineout was one of the few bright spots in the first half. With new cross-town transplant Mark Legare making himself known alongside 2nd row partner Guss Goss (yes, you read that right).
Justin Casino, in his first game starting at #9 for D2, was absolutely robbed about 20 minutes into the game. He picked off the back of a 5m scrum, held off 3 defenders by keeping the ball in 2 hands (ahem, Matt Stevens) and got a gorgeous offload away to Rafael Lpz Seg only to be denied for a supposedly forward pass. The instant replay showed that the motion of his hands was backwards, but the referee had made his decision.
The reserve bench had a terrific impact as they trickled onto the field in the 2nd half. #19 Chris Parker and #20 Steyn Benade were particularly good in their first games of 15s for the Austin Rugby Club. A big welcome to those guys as well. All in all, a difficult game that was probably made more difficult by the conditions. Not the best we can play, but we know that and can build accordingly.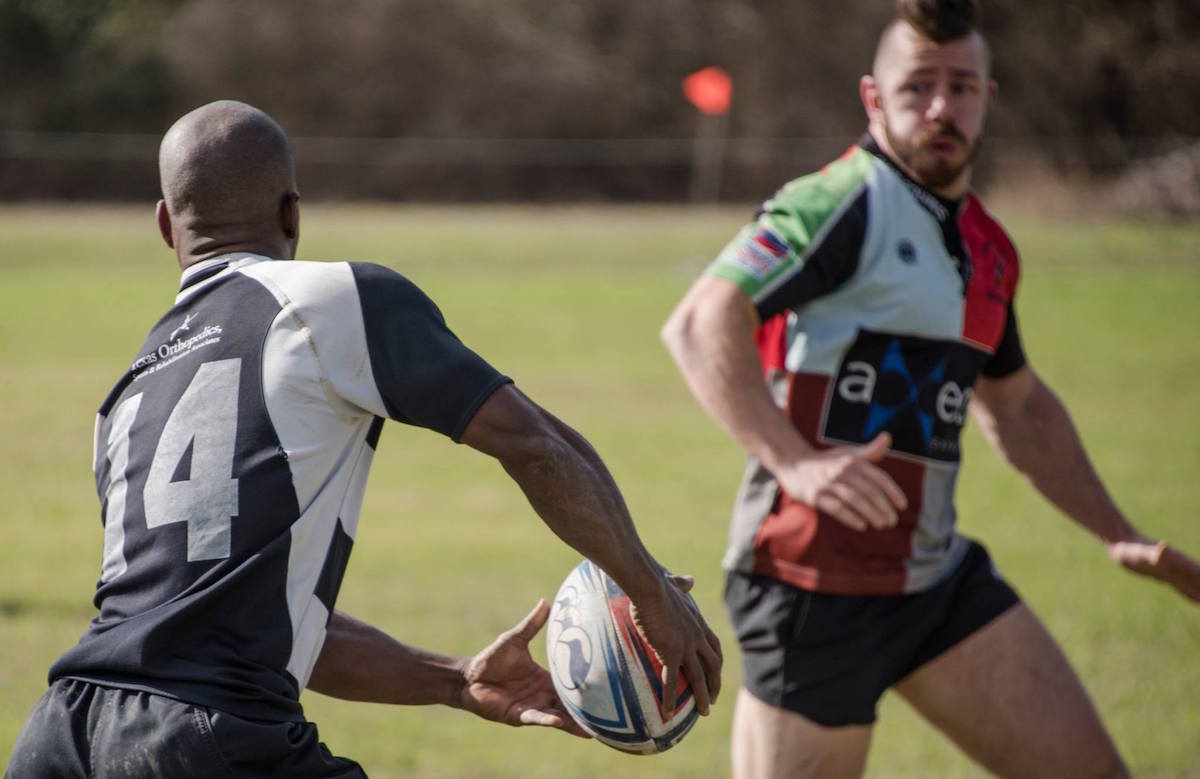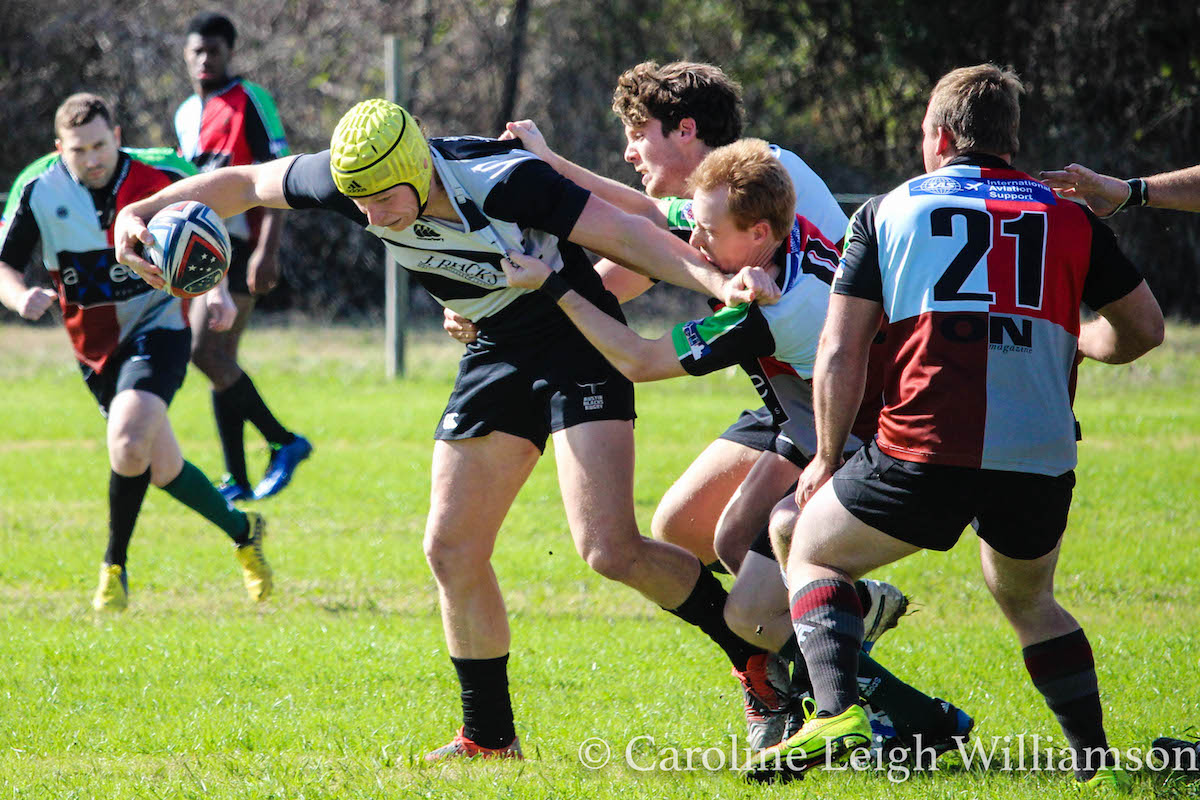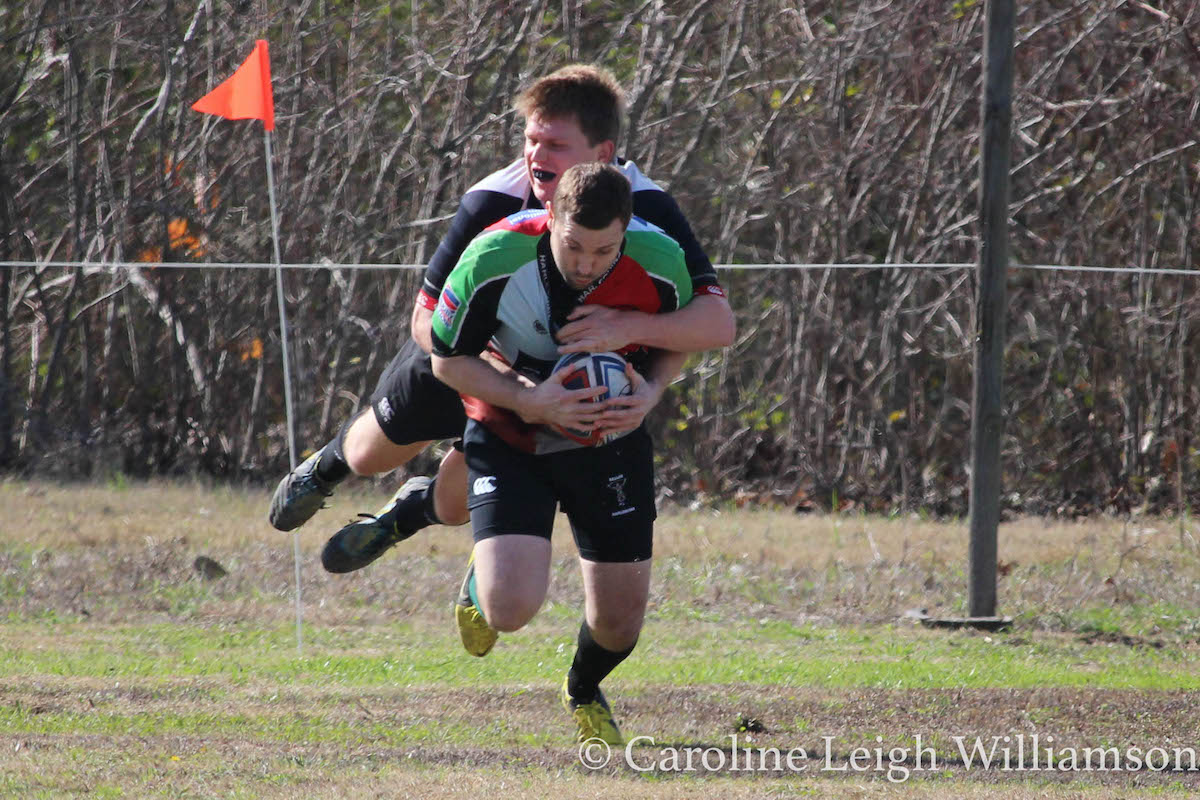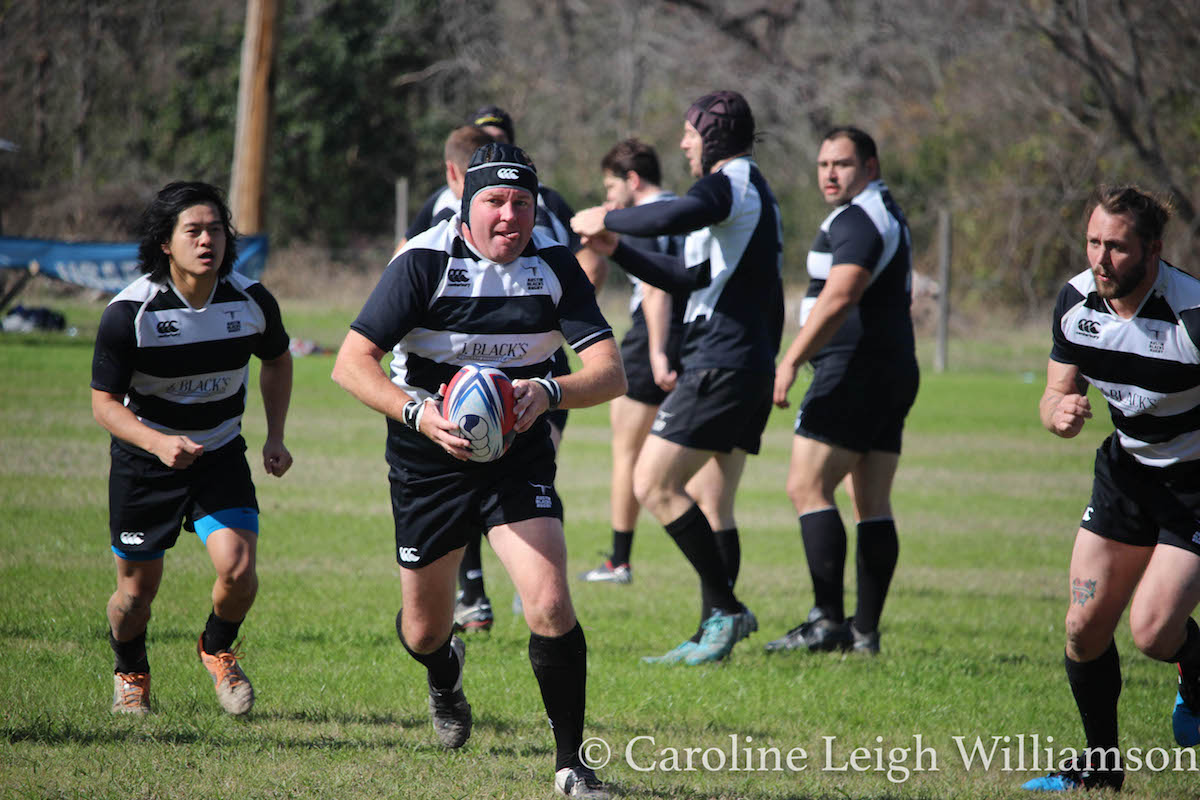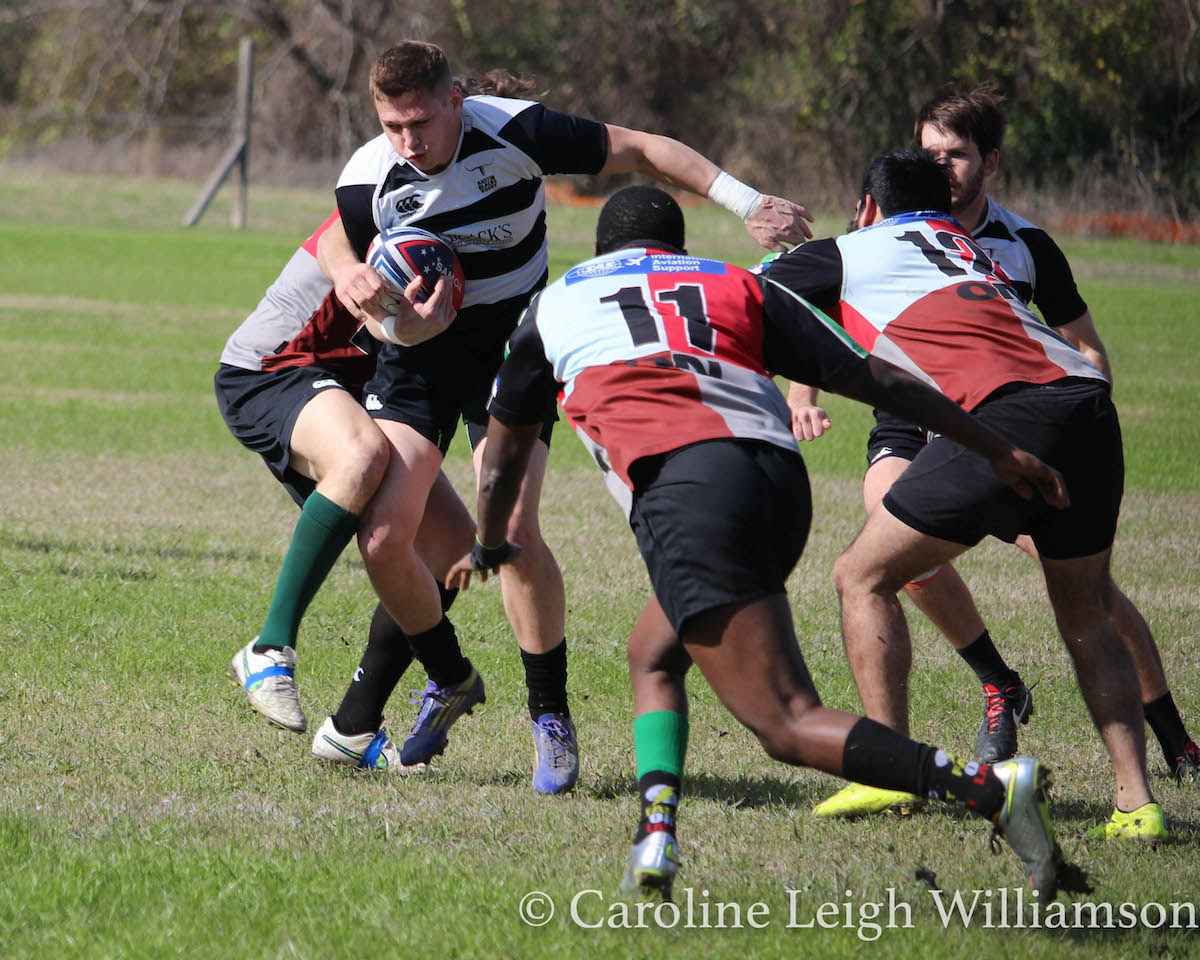 Division 1
To round out the summaries this week we have a quick Q&A with Head Coach Tane Jericevich. But before we get to that, let's take a minute to examine the squad that D1 fielded this past weekend compared to last year's National Championship team. In the Front Row we see two changes with the introduction of International-caliber scrummager Sam Rooke at prop and the little-known Chris Bauman at tight-head. All 282 lbs of Brendan Rams moves back to Hooker. The 2nd row is unchanged with Ty Terrazone and a skinny-looking guy who resembles Eric Reed locking the scrum. The back row is where the real difference is however with Seth Saunders, joined by foreign-recruits Johnny Clery and Ngoako 'Rale' Ralepelle taking the 7 and 8 jerseys respectively. A completely new back row that in this game performed superbly.
The backline looks pretty much like is usually does when the Austin Rugby Club plays well: Mizell, Sullivan, Kereti, Radzavich. In 2016, they've been joined by #9 Knute O'Donnell and #15 Stephen Jones who both looked like solid additions on Saturday.
And the game? A shaky ~60 point victory with the ARC's goal line crossed exactly 0 times. Lots to work on. Radzavich, share the tries around please.
How is this season starting out compared to last year?
We are further on now than we were last year. We have more depth and a larger pool of players to pick from, this gives us a good competitive environment in training and more pressure on consistent performances on the field.
Who was the biggest difference maker in the forwards/backs?
We don't really have any stars, we have a great team and whoever is in squad-everyone is just as important as the other from 1-23.
The scrum struggled last week against Allen Griffins, was that an area you focused on during training this past week?
The Griffins had a good scrum. Yes we had a good look at it this week, but also having some key players return in the front row was key to our dominance in that area against the Quins.
How is the team going picking up the system?
Like I said before we are further ahead compared to where we were last year. The guys are picking things up quickly, performances are improving every week. We just need to keep working hard, moving forward in the right direction.
What's the ceiling for the team this year?
We fell short of our aim last year and that was to win a national championship. It was only just but we have learned from it and are all determined to put things right this year.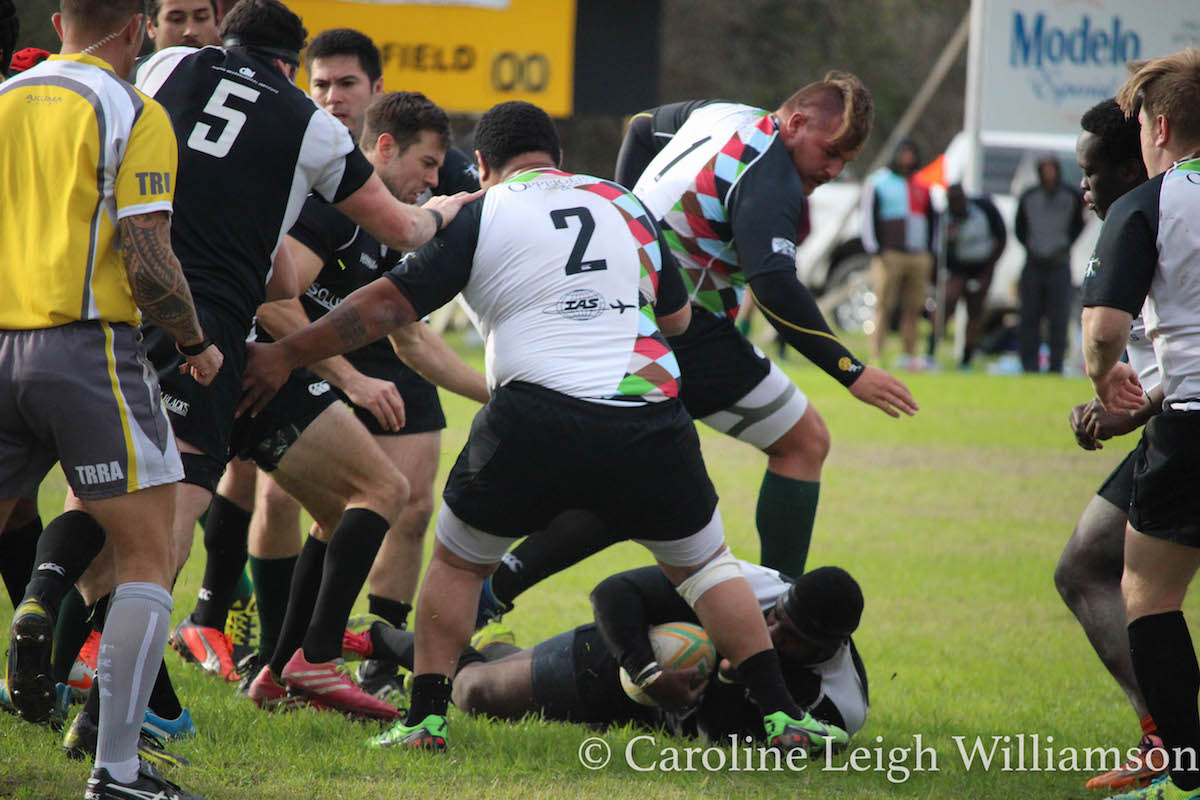 Well done lads, until tomorrow.
Bill Thugby